The RÉGÎM access card enables you to ride as much as you wish* through the purchase of a monthly pass available at regular, student and senior rates. You can also buy booklets of 10 tickets for $30 online. You can purchase electronic tickets or monthly passes here :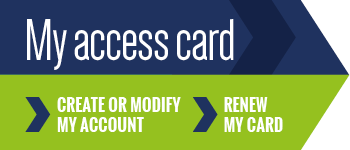 * You may travel as often as you wish on available routes. However, the use of an access card does not accord the right to added routes in an unlimited manner. The routes offered by the RÉGÎM remain available in function of the availability of vehicles and other resources to both access card holders and other clients.
First use of an access card
The access cards are currently available free of charge from RÉGÎM bus drivers. If you get your access card when you board a bus, you will have to pay the fare for that trip.
After getting your card, click on "My access card"  available on the website and create your account, which will be linked to your email address. You need to choose your security password and upload your photo ID. If you will be making reservations by phone, please input the same phone number in your access card account as you use when making your reservations.
Your photo ID must be taken in front profile and show only your face (shoulders to the top of the head), and be clear enough to identify you.
When creating your account, you can choose to receive alerts by email or text message (SMS) when your balance is low.
Monthly passes
Unlimited monthly passes are valid from the 1st to the end of each month.
Reduced fares (students and seniors)
To benefit from reduced student fares, you must be a fulltime (at least 4 days/week) student (secondary, adult education, vocational education, Cégep, university) and present a valid student card from your educational establishment.
To benefit from reduced senior fares, you must be 65 years or older, and present a photo ID with your date of birth (i.e., Medicare card, driver's license).
You can provide us a copy of the photo ID required to obtain student or senior discounts at any of our service points, by uploading a scan or photo of it to our website, or by attaching it to an email sent to [email protected]. Your user account and access card will not be activated until we have received your photo proof of identity.
Everybody can have a card, but cards can only be used by one person!
Anyone can get an access card, no restrictions apply.
Cards and user accounts are only valid for 1 person: they are not transferable and cannot be shared.
Lost, damaged or stolen access cards
Lost, damaged or stolen cards can be replaced. The account balance (i.e., already purchased monthly pass or e-tickets) will be transferred to the new card.